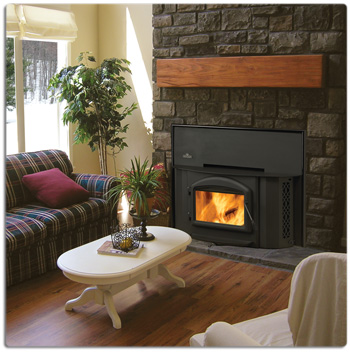 Recently official released statistics from the US Census Bureau reveal that wood or wood pellets are again the fastest growing heating fuel in America. In 2012, 63.566 more families used wood or pellets as a primary heating fuel, a 2.6% increase over 2011. Why? Because it is efficient and attractive. There is nothing more beautiful or relaxing than coming home to a wood fire. And, best of all, wood burning stoves and fireplace inserts increase the value of your home.
Wood and pellet home heating grew by 34% in 10 years, 'faster than any other of the fossil fuels, says US Census. Additionally, oil and propane use continuously declined since 2010. Let's face it, this mild weather is not going to last. Now is the time to consider a new wood stove or fireplace insert.
At the present, 2.5 million American households use wood as a primary heating fuel. Wood is by far the most used renewable energy in the US.
One percent of Americans use wood or wood pellets as a primary heating fuel and 7,7% US households use it as a secondary heating fuel. Do you have uneven home heating? Don't turn up the thermostat, supplement your home heating with a wood burning stove or fireplace insert.
For beautiful choices, best prices and outstanding customer service, contact the Grill and Fireplace Shop in Sudbury. See what our customers are saying! And right now, we have plenty of November stove and fireplace insert specials.
Stats - IHB