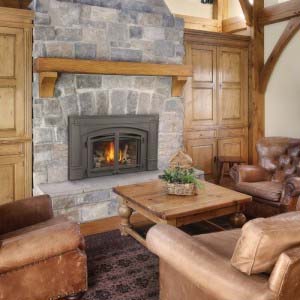 Cooler fall weather is on its way with winter right behind it. Add beauty and value to your home while adding heating efficiency at the same time. How? With wood burning stoves or gas inserts.

Efel S33 and S43 Wood Burning Stoves – These wood burning stoves offer you classic styling and advanced technology that makes them a comforting, efficient addition to your home. The cast iron body provides superior heat retention to get the most heat from the wood you burn. Enjoy a generous view of the fire through the wide, glass-paneled door which adds unsurpassed ambiance to your room. Efel wood stoves effectively heat a small home or a large living area. These stoves are at least 77% efficient and they meet or exceed international emissions standards.

Napoleon XIR3 Series Gas Fireplace Inserts – Gas Fireplace Inserts are convenient and easy to use. With the flick of a switch you can enjoy a beautiful fire in your hearth. Fireplace inserts add tremendous efficiency to an open hearth, forcing heat out into your home rather than up the chimney. Gas inserts have become incredibly efficient overtime, allowing you to use gas fireplace inserts to heat your home. Replace your drafty, inefficient masonry fireplace with a quality gas fireplace insert. This is the perfect solution to improve your heating efficiency for a warmer cozier home. Gas inserts offer superior heating solutions with the convenience of turning your fireplace on or off with a remote control.

Both of these beautiful fireplace options are on sale now at West Sport in Sudbury, now through September 30th. Contact us for more information.