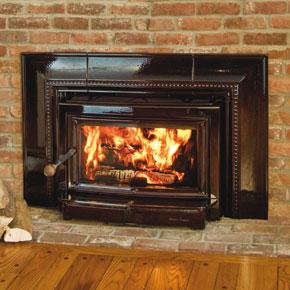 A wood burning fireplace insert is an easy, convenient way to heat your home and the perfect way to make your open fireplace more beautiful. Wood burning fireplace inserts sit inside the open fireplace and are surrounded by steel or cast iron with an insulated glass window. This prevents the heat from going up the chimney and instead sends the heat into your home. Many wood burning fireplace inserts have a blower that helps circulate the hot air for more efficient heating.
One of the biggest benefits to adding wood burning fireplace inserts is that they're much more energy efficient than an open fireplace. In fact, they average around 80% efficiency, that is far more efficient than your existing heating system. They are very attractive because it is a natural wood fire with an attractive surround. In smaller homes, wood burning fireplace inserts can be used as the only heat source. In every home, they become the focal point of your room.
Right now, at West Sport in Sudbury, Hearthstone wood burning fireplace inserts are on sale. Get $600 off when you purchase the chimney liner too.
Clydesdale Wood Burning Fireplace Inserts feature cost saving benefits. They are attractive, can supplement your home heating or can be used to heat the room you use most; plus they have the benefit of replacing an old drafty masonry fireplace.
Clydesdale Wood Burning Fireplace Insert
Heats up to: 2,000 sq. ft.
Burns Up to 10 hours
Heats for Up to 12 hours
Size: 60,000 BTU's
Efficiency: 79% (LHV)
For more information on this wood fireplace insert sale, contact West Sport in Sudbury.