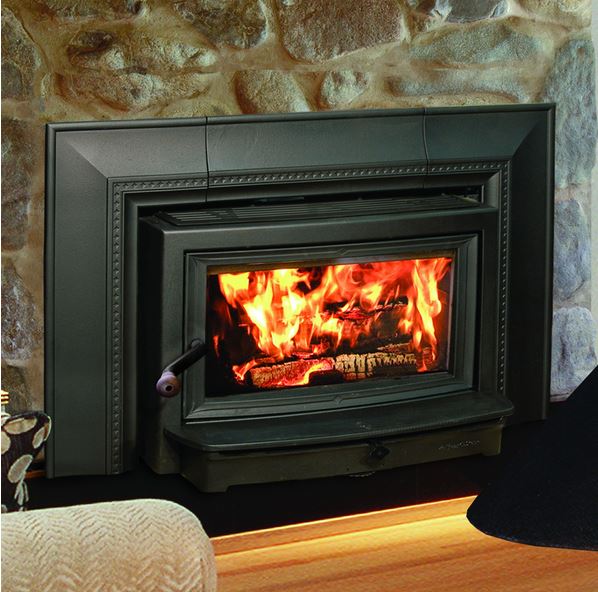 The Clydesdale wood burning fireplace insert made by HearthStone is certified by the EPA for emissions, making this fireplace insert beautiful as well as very clean and efficient. The Clydesdale combines high-end eye appeal and design made from cast iron, with s beautiful large glass door so you can enjoy the fire as it burns.
This wood burning fireplace insert is one of the most attractive inserts on the market, and can fit in with most styles of home décor. Lots of people like their open wood burning fireplaces, but the Clydesdale wood burning fireplace insert will change your ideas about that. This wood insert was designed for beauty and performance. It is made to be eye appealing, and with the large glass window, you will enjoy your evening by the fire. But it is made to be efficient and used as a heat source as well. When you get home and you want to get warm and relax, the Clydesdale is beautiful to look at, inside and out.
This wood burning fireplace insert is also efficient. It can heat up to 2000 sq ft and it can burn for up to 10 hours. It's EPA Rating is 3.2 grams of particulate emissions per hour with an efficiency rating of 79%. That makes this fireplace insert very efficient.
If you are looking for different, better and more beautiful way to heat your home that also adds value and is consistent, reliable and affordable, look at the Clydesdale fireplace insert from Hearthstone. At West Sport save $300 off any Hearthstone product. Contact us for more details.