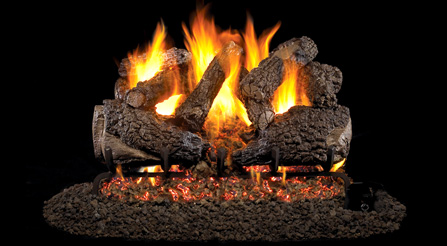 Cold weather in the forecast is a great excuse to light up the fireplace and stay in with a thick blanket and a steaming cup of tea.
For many, it may be as simple as flipping a switch to get that fireplace roaring.
More people are leaning toward gas. More people are choosing wood-burning fireplaces. You might see it more in rural areas, where they have wood-burning stoves to provide warmth.
But despite the movement from the old-school wood-burning fireplaces to the gas varieties, much of the trend still lies in the homeowner's preference. Sometimes it's a matter of being the right time to update the masonry fireplace, transition to an easier-to-maintain option or increase efficiency.
Choosing the right fireplace depends on the needs of the homeowner and possible restrictions related to the space and age of a home, but it's always a good idea to talk to a retailer before making some decisions.
Because these projects require attention with gas lines, most people, even DIY-enthusiasts, will hire qualified plumbers to make sure everything is installed correctly.
Some of the best-sellers include the gas log set, which offers the appearance of a traditional fireplace — with "burning logs" — fitted into an existing fireplace. The vented gas log sets can start at a couple hundred dollars, but prices will climb with the size of the logs and existing fireplace. Other versions, such as the direct-vented fireplaces or free-standing vent-free options offer more efficiency while heating and can start around $350.
It's like buying a car. You can buy one with a steering wheel and four wheels or you can buy the whole shebang with manual or remote set-ups, styles and sizes.
Direct-vented options seem to be more popular because of the different styles and models available.
A wide range of glass beads and stones can replace the traditional appearance of burning logs, as well as different designs to fit any style or theme. Customers can choose from modern to contemporary finishes or change the panels to various colors and materials that add to the ambiance of a roaring fire.
There are even some with lights that can change colors in the background.
Gas fireplaces, which can use natural gas or liquid propane, offer homeowners added peace of mind, too, because there is no creosote build-up, a byproduct created from wood-burning fires that can potentially cause chimney fires.
When you're using natural gas, there is no issue of creating creosote, so there isn't a need to get the chimney cleaned. As a rule of thumb, when it comes to wood-burning fireplaces, you want to look at having it serviced annually to be safe.
As for the gas options, maintenance is minimal. All things considered — how often it is used and for how long — homeowners are often interested in upgrading their gas fireplace before needing to replace it.
If you've got a traditional fireplace at home, there are so many options for wood. Each variety offers varying levels of smoke, heat, flavor and aroma. There are several options to choose from. The species of wood will determine the warmth of a fire, length of time it burns and whether it pops and crackles.
For more information and help choosing the right option for your home, contact West Sport in Sudbury.
tulsaworld.com