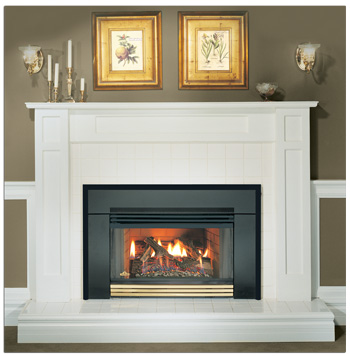 Fall is right around the corner, which means cooler is weather is on the way. Add beauty and value to your home while also adding heating efficiency. How? With wood burning fireplace inserts or gas inserts. And, buying now means you won't wait long for delivery or installation.
Wood burning fireplace inserts have beautiful designs and advanced heating technology to make them a perfect efficient addition to your home. The cast iron body provides superior heating so you get the most from the wood you burn. With a beautiful large glass window, you can relax in front of a generous view of the fire which adds ambiance to your room. Wood inserts can heat a small home or a large living area and are significantly more efficient than an open fireplace.
Gas Fireplace Inserts are convenient and easy to use with an on off switch and a thermostat. With just the push of a button families can enjoy a beautiful fire. Fireplace inserts add efficiency to an open fireplace, and push the heat into your living space rather than up the chimney. Gas inserts are incredibly efficient and are capable of heating your home. Replace a drafty, inefficient open fireplace with a quality gas fireplace insert. This is the perfect solution to improve your heating efficiency and for improving the ambiance of your home. Gas inserts offer better heating with the convenience of remote control.
Fireplace inserts are on sale now at West Sport in Sudbury, buy one and get the chimney liner for free, an $800 value. Contact us for more information.