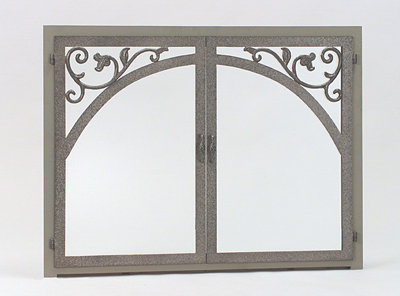 Fireplace doors are crucial to any home with a fireplace. Most homeowners think that having a fireplace allows them to control and create the heat in their home. That's not true. Installing fireplace doors has numerous benefits.
Glass fireplace doors will make your home safer. They keep small children and pets safe from the fireplace and they keep any sparks, hot ash, and other debris in the fireplace instead of on your carpet. They also prevent pests that enter your chimney in the spring and summer from being able to enter your home.
Fireplace doors also allow you to better control the heat and increase the efficiency of your fireplace. Doors keep the cold air from entering your home through the chimney, and they keep the warm air from escaping up the chimney. In fact, they can reduce air loss through the chimney by 90%. This saves you money year round on your utility bills.
Installing fireplace doors is also a great way to make your fireplace look more attractive, up-to-date, and creative. With so many designs and colors available, as well as custom fireplace doors – you will be able to find a door that looks great with your décor.
There are fireplace doors to fit any size and shape fireplace. You will be able to find whatever style door you want, and you can personalize your fireplace doors to fit your style. It's a great way to tie in your fireplace with the rest of your home.
For more information, contact West sport in Sudbury.
fireplacedoorsguide.com