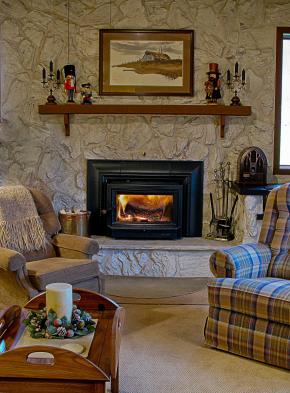 Many homeowners in Massachusetts are having fireplace inserts installed. Some are doing it from an increase in environmental awareness. There are several benefits to using fireplace inserts, which is why we recommend these energy-saving appliances to customers.
Benefits of using a fireplace insert include:
1. Modern fireplace inserts are much more efficient than older open fireplaces, which have low efficiency ratings at about only 5% to 10%. One reason for a lack of efficiency with open hearths is that a lot of heated room air is pulled into the fire, a process which results in an energy-wasting, quick-burning fire. Fireplace inserts have a sealed, air tight door system which generates more heat because the fire burns much slower and the heat isn't wasted. The efficiency of fireplace inserts can be as much as 80%.
2. EPA-certified fireplace inserts can reduce wood-burning emissions to practically zero, meaning that your environmental footprint is much smaller than with an open hearth fireplace.
3. You can save money on your energy bill if you install a fireplace insert. A more efficient wood-burning heating system means less gas, oil, or electricity is required to heat your home. When the insert is not in use, the closed air tight glass doors will prevent heated inside air from escaping up through the chimney and also stops cold outdoor air from getting into the home, whether hot or cold this cuts your energy costs.
4. You can save money on the cost of remodeling. You can get a new look without having to do major remodeling work.
5. They are also very aesthetically pleasing. There are many stylish and beautiful models to choose from. Some fireplace inserts are installed flush with the face of your fireplace, totally inside your current firebox and some project out of the firebox a few inches onto the hearth, but they all give a room an appealing focal point, in addition to providing plenty of warmth during harsh winter weather.
A few more things you may not know about fireplace inserts:
When installing an insert, there are very specific requirements regarding the flue liner. It's necessary that a professional install an appropriately sized chimney liner to ensure that the chimney's draft satisfies the insert's specifications, and that the new appliance functions safely.
Fireplace inserts have self-cleaning glass doors which can literally burn accumulated creosote off the glass making fire viewing practical. Since they are sealed, they can also solve occasional down-draft problems.
You can choose from different types of fuel for your fireplace insert, the most popular being: natural gas, propane, wood, and pellet. If you decide to burn wood, make sure the unit you purchase is EPA certified; to assure safety and satisfy your insurance company, any heating appliance, regardless of the fuel burned, should carry a certificate that states it has been tested to the appropriate Underwriters Laboratory (UL or ULC ) standard.
If you have any questions about fireplace inserts contact The Fireplace Shop and Grill Center at West Sport in Sudbury, MA.
chimneyspecialistsinc.com