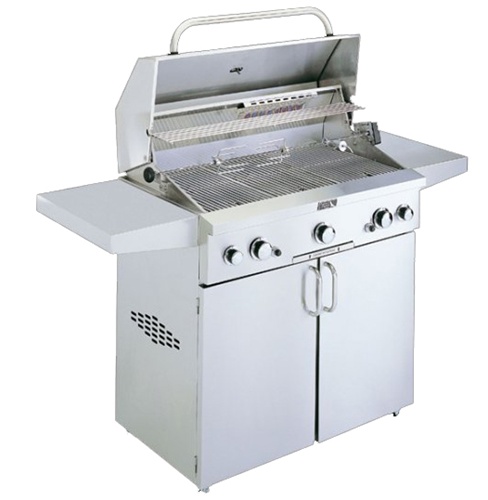 Due to the sheer number of styles and types of grills on the market today, buying a new grill can be an unexpectedly daunting process. Consider and answer these questions before you go shopping for a grill.
How will I use the grill?
Do I plan to grill frequently?
Will I grill for large gatherings or large amounts of people?
Keeping the answers to these grilling questions in mind will help make selecting the right size, the type of fuel, and the accessories much easier.
Grill and fuel costs
Grill prices can range from about $50 for a smaller quality charcoal grill to several thousands of dollars for large gas-fired grills with multiple burners and accessories.
Most grills use either charcoal briquettes or propane gas. Some grills and smokers use wood or wood pellets.
Sizing up your grill and its heat production
Considering cooking surfaces and sizes on grills is important. The surface or its coating will determine how easily food is removed from the grill and how the food may be cooked or eventually taste. Many grills feature chrome-plated steel grids, while higher quality models may feature ceramic-coated steel grates, which are easier to clean and more durable.
When selecting a new grill, keep in mind that a cooking surface of about 2.5 square feet is generally sufficient to cook for small groups of guests. If you're cooking for larger numbers of people, consider getting a grill with a larger cooking surface.
As well as cooking meat on the grill, there are also vegetables you may want to roast or hamburger and hot dog buns you'll want to toast using the cooking surface. Plan the size of your ideal grill by the maximum number of items you'll want to cook, not the minimum.
Another measure of grill performance is BTUs. The number of BTUs advertised indicate the grills' temperature output. Since BTU measures the total amount of heat output by all the burners per hour, the more BTUs a grill features, the faster it will be able to cook. The average gas grill can produce between 15,000 to 60,000 BTUs
Since charcoal burns at a slower rate than gas, similarly sized charcoal grills will produce relatively fewer BTUs than gas grills.
Other considerations
When selecting a grill, one feature that many consumers may overlook is testing the sturdiness of the cooking platform. A quality grill should be supported by sturdy legs that are well-attached to the grill shell and braced. A grill that wobbles, leans or twists can be unsafe.
Other indicators of a quality grill include a solid lifting handle that's not loose, welded seams on the grill shell and, if equipped, heavy duty rollers that can help you move the grill easily. Finally, see if you can test out a grill before you buy it. A grill's control knobs and handle that stay cooler during grill operation offer a safer option.
For more information contact, The Fireplace Shop and Grill Center at West Sport. And, don't forget to take advantage of the MA state tax holiday weekend August 29 and 30. We are taking orders now!
Source: angieslist.com