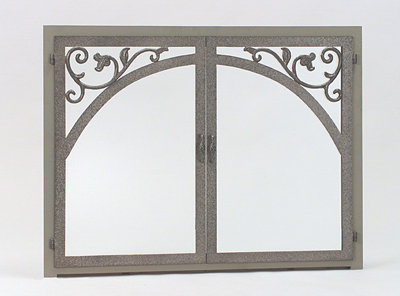 The fireplace is the heart of the room. Our custom built fireplace doors and screens bring a new level of style to your fireplace that you and your family will enjoy for years.
If you live in a home with an open masonry fireplace, you may want to consider custom designed fireplace doors. If you enjoy a nice roaring fire on a cold winter night, fireplace doors can make the fireplace more efficient and more attractive, for less cost and hassle than a fireplace insert. Another benefit, with glass fireplace doors you can choose what you want your fireplace surround to look like. You're not beholden to the design of a manufactured insert.
Glass custom fireplace doors are designs that reflect your style.
Want to make it even easier? We also offer a great variety of existing fireplace doors. Masonry fireplaces can have a variety of looks. Contemporary. Traditional. Transitional. And your fireplace door should reflect that style. West Sport in Sudbury offers the widest variety of doors in the widest design styles. Choose the clean, sleek lines of the Moderne for a contemporary look. The Brookfield and Carolina doors feature popular design options that work with a variety of styles. The Hammered Edge door features a traditional look that shows the "Old World" craftsmanship that goes into every door. The almost unlimited finish and design options allow you to design a fireplace door that shows your style.
For more information on fireplace doors and screens, contact West Sport in Sudbury.