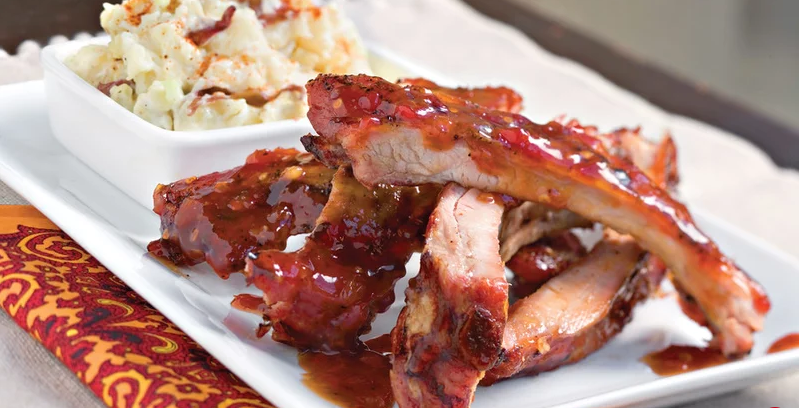 Our directions for these juicy baby back ribs are for a two-burner gas grill. If you have a three-burner grill, light both sides, and leave the center portion off.
Ingredients
2 tablespoons ground ginger
1 teaspoon salt
1 teaspoon black pepper
1/2 teaspoon dried crushed red pepper
3 slabs baby back pork ribs (about 5 1/2 lb.)
2 limes, halved
Sweet-Hot 'Cue Sauce
Sweet-Hot 'Cue Sauce Ingredients
2 (10-oz.) bottles sweet chili sauce
2 cups ketchup
1/3 cup firmly packed dark brown sugar
1 teaspoon ground ginger
1 teaspoon pepper
1/2 teaspoon dried crushed red pepper flakes
How to Make Ribs
Step 1
Combine first 4 ingredients in a small bowl.
Step 2
Rinse and pat ribs dry. If desired, remove thin membrane from back of ribs by slicing into it with a knife and then pulling it off. (This will make ribs more tender.)
Step 3
Rub ribs with cut sides of limes, squeezing as you rub. Massage ginger mixture into meat, covering all sides. Wrap ribs tightly with plastic wrap, and place in zip-top plastic freezer bags or a 13- x 9-inch baking dish; seal or cover, and chill 8 hours. Let ribs stand at room temperature 30 minutes before grilling. Remove plastic wrap.
Step 4
Light 1 side of grill, heating to medium-high heat (350° to 400°); leave other side unlit. Place rib slabs over unlit side, stacking 1 on top of the other.
Step 5
Grill, covered with grill lid, 40 minutes. Reposition rib slabs, moving bottom slab to the top, and grill 40 minutes. Reposition 1 more time, moving bottom slab to the top; grill 40 minutes.
Step 6
Lower grill temperature to medium heat (300° to 350°); unstack rib slabs, and place side by side over unlit side of grill. Cook ribs 30 more minutes, basting with half of Sweet-Hot 'Cue Sauce. Remove ribs from grill, and let stand 10 minutes. Cut ribs, slicing between bones. Serve ribs with remaining Sweet-Hot 'Cue Sauce.
How to Make Sauce
Step 1
Combine sweet chili sauce and remaining ingredients in a saucepan over medium-high heat. Bring mixture to a boil; reduce heat, and simmer 30 minutes.
Step 2
Note: For testing purposes only, we used Maggi Taste of Asia Sweet Chili Sauce.
Southern Living - Image and Recipe