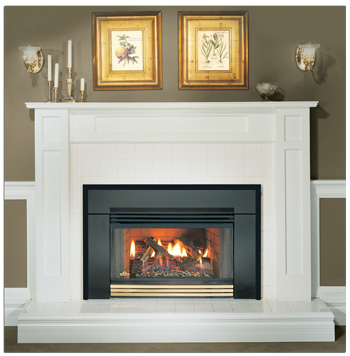 A crackling fireplace during the winter is an aesthetically pleasing heat source and a desirable one in many homes, and it's an asset the National Association of Realtors estimates can add as much as $12,000 to a home's value.
How often the unit will be used, whether its purpose is ornamental or utilitarian, a homeowner's cost limitations, or whether the heater is built during construction or added to an existing home factor into choosing the right type of unit.
Generally, there are three – gas, wood-burning and pellet units – and local suppliers offer varying recommendations to their clientele.
Pellet stoves are a popular choice because of their energy efficiency, but because they run on electricity, they're not 100 percent reliable as a heat source, even with a backup generator.
Gas fireplace inserts are more expensive to fuel than wood units, but they're less labor-intensive, or cheaper to install and provide a cleaner burn. Unlike wood, they also don't leave creosote deposits, the leading cause of chimney fires.
Wood-burning fireplace inserts are favored as the most authentic option, but they need more maintenance and tend to be the most arduous to fuel. The Hearth, Patio and Barbecue Association rates older wood-burning models manufactured before 1990 at 10 percent efficiency or less.
But fireplaces and stoves are becoming much cleaner sources of heat and decoration because of new and more rigorous federal emissions standards.
All Environmental Protection Agency-certified wood stoves meet an emissions standard of no more than 4.5 grams per hour. By 2020, that emission limit for room heaters will fall to 2 grams per hour, a standard announced in 2015 to be phased in over five years.
Homeowners can take their own steps to boost overall efficiency by installing fireplace inserts – boxes of steel or cast iron that fit into the fireplace unit, connect to a flue and create a cleaner burn; an insert can increase a wood-burning fireplace's efficiency up to 80 percent.
They basically fill cavities in the fireplace so it doesn't lose heat. Selecting the right type of fuel, particularly with wood-burning stoves, also cuts down on excessive smoke.
Cured, seasoned wood is important. If it's been split and stacked, sitting there for a year, that's probably not usable wood.
Homeowners should never burn anything in a wood-burning unit other than well-seasoned wood with a moisture content below 25 percent. Likewise, homeowners should never burn anything in a natural gas unit other than natural gas. Gas logs are typically installed in a way to maximize unit efficiency, so homeowners shouldn't rearrange these for cosmetic purposes.
In addition to consulting with suppliers about the best option, a homeowner can use the Hearth, Patio and Barbecue Association home heating calculator to help determine the most cost-effective and clean unit.
For more information on stoves and inserts, contact West Sport in Sudbury.
durangoherald.com