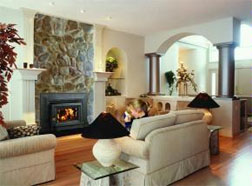 It is getting cooler and you can certainly feel it at night. It is just about time to turn on the heat and light the home fires. If you want a better more beautiful way to stay warm this winter, consider wood burning fireplace inserts for your home. And, they are on sale right now.
This November, West Sport in Sudbury can save you $600 on the Hearthstone Clydesdale Wood Burning Fireplace Inserts, including the chimney liner system. Right now is the time to buy if you are considering adding warmth, beauty and ambiance to your home while increasing its value. Why is now the perfect time? Because there is a much shorter wait time from the time you buy to the time it is installed and you can start to enjoy your beautiful efficient fire.
Take advantage of the November Fireplace Insert Special.
There is a reason that people love wood fires; they are cozy, warm and relaxing. If you want to get ready for the cooler nights now, come on in and see this beautiful fireplace insert while it burns. We have one lit every day for you to enjoy.
Come see this beautiful fireplace insert, and we take care of all of your service and installation needs too. We want you to be warm, with style, for less.
Looking for other ways to warm your home? Here are all of our November Specials:
$400 off Peterson Gas Fireplace Inserts - includes chimney liner system
$200 off all Hearthstone Gas Stoves
$600 off Hearthstone Clydesdale Wood Fireplace Inserts – includes chimney liner system)
$200 off Gas Logs and Custom Glass Fireplace Doors
For more information, Contact us.