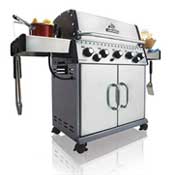 If it is time to buy a new grill – There are some things to consider along with what type of fuel you want to use. Charcoal? Gas?
When selecting a grill, it is important to ask yourself a couple of questions. How many people are you cooking for; how much time do you typically have to cook; and what space will you be cooking in? These are important things that will help you select the best grill for your needs.
Looking at how many people you cook for is important to identify how big a grill you need. There is a wide variety of sizes available — especially in charcoal and gas grills. A family of four may be able to use a two- to three-burner gas grill, or an 18-inch charcoal kettle grill for normal cooking. If you entertain at your house during the summer, or if you plan to, you may want to look at multiple grills — gas for normal family cooking then charcoal for those all-day backyard cookouts.
Timing is everything when it comes to grilling. Prep time for gas grills is typically less than five minutes. On the other hand, charcoal grills have a prep time that can be as high as 15 to 20 minutes, depending on the grill and amount of charcoal.
It is important to keep in mind your fuel source when selecting the best grill for your needs. If you usually have to cook in a short window of time, a gas grill would be the best option. If you're a slow and steady griller — charcoal is a great option.
The space you have to grill in is also important. A patio may give you more options than a deck. Though you may need a large grill for your family, you may lose function with a large grill in a small space. If space is a concern, look at grills that have space-saving features, such as side shelves that fold down.
Putting some thought into these questions will help you make the most of your grilling adventures. For help choosing the best grill for your space and your lifestyle, contact West Sport in Sudbury.
stltoday.com