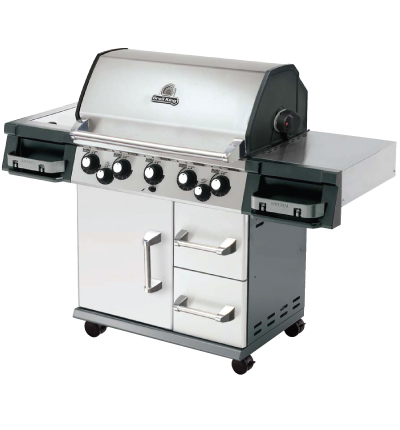 It is March and it may not feel like it, but spring is just a week away. You may be looking out your window now and seeing snow, but soon, that snow will be gone and you will get the urge to grill. Right now, you can take advantage of the pre-season gas grill sale.
The Broil King Baron series 3 and 4 burner Gas and LP grills offer both power and performance to suit all types of grillers. The legendary Broil King cooking system includes heavy-duty cast iron cooking grids, stainless steel Flav-R-Wave technology, and powerful stainless steel burners. Easy to maintain, the style and performance of these gas grills rivals any other grill on the market.
Grilling is meant to be casual and relaxed, a get together around the grill with family and friends enjoying a delicious meal. Broil King 3 and 4 burner gas grills are built to perform and provide you with unparalleled versatility in outdoor cooking. These Broil King Grills give you the ability to cook almost anything anyway on your grill. You can sear steaks, rotisserie cook chickens, or you can bake fish or desserts. Broil King gas grills are for those who love casual outdoor living and great tasting food.
Contact West Sport in Sudbury to take advantage of the pre-season grill sale.