If you have yet to decide on a Christmas entrée, or If you have decided on a beautiful pork crown roast, here is an excellent and different, but easy recipe.
This is a fantastic way to prepare a pork crown roast. The roast is marinated, placed onto the grill, basted with a sweetened glaze, sliced, and then served with a delectable sauce. Perfect for the holidays or any special occasion.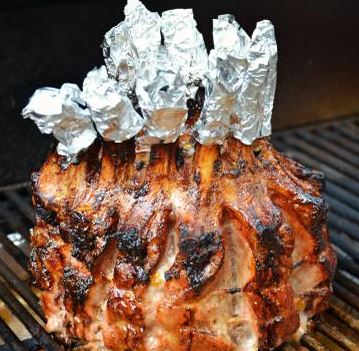 Grilled Pork Crown Roast
1 pork crown roast (10-12 bone)
for marinade:
1/3 cup/80 mL olive oil
1/4 cup/60 mL gin
1/4 cup/60 mL fresh oregano leaves, chopped
juice of 1 lemon
2 teaspoons/10 mL Worcestershire sauce
1 1/2 teaspoons/7.5 mL sea salt
1 teaspoon/5 mL fresh thyme
1/2 teaspoon/2.5 mL mild chili powder
1/2 teaspoon/2.5 mL black pepper
for glaze:
1 cup/240 mL fig preserves
2 tablespoons/30 mL water
1 tablespoon/15 mL gin
for sauce:
1 small shallot, finely chopped
2 tablespoons/30 mL olive oil
juice and zest of 1 lemon
1 1/2 cups/260 mL chicken broth
2 tablespoons/30 mL Dijon mustard
1 tablespoon/15 mL white wine (optional)
6-8 whole peppercorns
1/2 teaspoon/2.5 mL sea salt
cornstarch and water
Combine all marinade ingredients in medium plastic or glass bowl. Place roast into a large resealable plastic bag. Pour marinade ingredients into bag making sure only the meat portion is covered. Seal and place into refrigerator in a standing position, meat side on the bottom, bones on top. Marinate for 4-6 hours.
While roast is marinating, prepare the glaze. Simply add all glaze ingredients to a saucepan and simmer until fig preserves is melted through. Once all ingredients are well combined, remove pan from heat and let glaze cool to room temperature before using.
Preheat gas, charcoal or pellet grill for medium-high heat. Remove crown roast from bag and discard marinade. Wrap each bone with aluminum foil, so they do not burn during cooking process. Place roast onto grill and cook over indirect heat for 2 to 2 1/2 hours, depending on size and thickness of roast. Toward the last 40 minutes of cooking, baste with fig glaze continuously. Once meat reaches 165 degrees in multiple locations, it is time to take off the grill. Place onto a large cutting board and tent with foil. Let rest for 10 minutes before carving.
To prepare serving sauce, heat olive oil in a large pan. Add shallots and cook for 2-3 minutes constantly stirring, add chicken broth and bring to a light bubble for 1-2 minutes. Add remaining ingredients and let simmer for 8-10 minutes, stirring occasionally. To thicken sauce, simply combine 1/4 cup/60 mL of cold water with 1 heaping teaspoon of cornstarch in a small dish. Increase heat to medium high on stove, letting the sauce come to a bubble. Slowly pour in cornstarch mixture, making sure to stir so lumps do not form. The sauce should thicken quickly. Once this happens, remove pan from heat.
To serve, cut away the twine used to secure the the roast. Remove foil from bones, and cut each portion between the bone, exposing a nice thick bone-in chop. Top meat with sauce and enjoy with your favorite side dishes.
Happy Holidays, and Happy New Year from West Sport in Sudbury.
Image and recipe - bbq.about.com