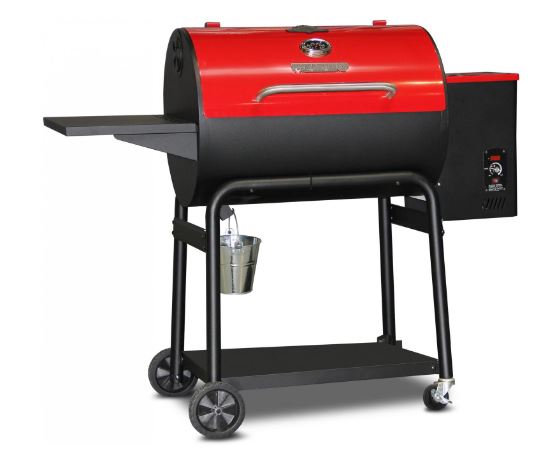 The Hearth, Patio and Barbecue Association says roughly 45% of adults will buy a new grill or smoker this year. If you are one of those people, consider looking at the hottest trend in outdoor cooking: pellet grills.
The popularity of pellet grills is surging thanks to word-of-mouth accolades.
It's easy to see what the fuss is all about: Wood pellet grills give backyard chefs all the convenience of a gas grill with the oh-so-primitive flavor they seek from wood smoke. And they double as pellet smokers.
Pellets are made from select hardwoods or natural lump charcoal, which grilling enthusiasts say produce a much more natural flavor than either charcoal briquettes – whose production process destroys the wood's flavor-producing molecules – or propane, which produces no taste signature.
Wood pellet grills vary in size and design, but operate in the same basic manner: An auger draws pellets from a hopper into the combustion chamber where they are ignited by a hot metal rod and fed with air from a combustion fan. Sensors mounted inside the grill display real-time data.
Because everything is electronically controlled, precise temperatures can be maintained in the cooker, enabling everything from a low-and-slow heat to a searing temperature, reducing the need to own multiple backyard grilling appliances.
Not only is the indirect cooking method thought to be healthier, it is more versatile as well. Besides being a grill, most pellet models also double as a smoker and an outdoor oven, which some die-hard enthusiasts insist makes the best pizza around.
If you needed another reason to feel good about pellet grills, it's that they are a renewable resource made from compressed sawdust that might have otherwise ended up in a landfill. And being one of the lowest-emission solid-fuel-burning products on the market, you won't have to worry about disturbing the neighbors or coming in from the backyard with watery eyes.
Of course pellet grill prices vary depending on the model and features, but all cost less to operate than the typical charcoal grill because of the efficiencies of the pellets. One 20-pound bag of pellets will give you about a dozen cooking sessions, compared to three or four for the same amount of charcoal.
And just because fall is approaching doesn't mean you should put off your decision to invest in a pellet grill. The Hearth, Patio and Barbecue Association's latest grill survey says 63 percent use theirs year-round, with 43 percent cooking at least monthly during the winter.
So what are you waiting for? Check out a pellet grill for yourself and see what all the fuss is about. Contact West Sport in Sudbury for more information.
Augusta Chronicle