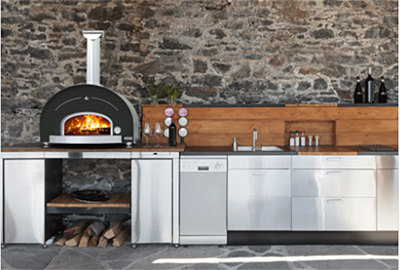 This is the ultimate premium experience in outdoor patio ovens. With a thick soapstone floor, the Hearthstone Pizza Oven follows a well-established cooking tradition for thousands of years: using the natural properties of soapstone for exceptional cooking results —endlessly delighting your guests.
Features
Genius Design
With unique features like a front prep shelf, a surface heat thermometer and onehanded front door handle, the Genio will surpass all of your expectations.
Soapstone Floor
The thick soapstone floor gives a consistent and reliable even heat for everything on your menu. Soapstone will also hold its heat longer than regular fire bricks, giving you more cooking time from less wood. So, go ahead and put that dessert casserole in while you're enjoying dinner!
Made in Vermont
In a world where it's getting harder to appreciate American engineering and manufacturing, the HearthStone Outdoor Pizza Oven stands alone. It is designed and manufactured in the Green Mountains of Vermont.
For more information on Hearthstone Patio Pizza Ovens, visit The Fireplace Shop and Grill Center at West Sport in Sudbury.