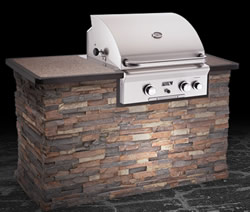 April is almost over and May is almost here. It is time to get ready for the warm weather here in Boston. After a very long February, March and April, we are anxious to get outside. But you need a new grill and new patio furniture, maybe even a better place to stay cool.

You need an outdoor living space and now it the time to do it! A stunning stone and brick structure with a beautiful grill and eating area. Now it the time to create a backyard resort complete with a relaxing seating area with a fire pit for cool evenings and the perfect grill area featuring both a gas grill and a charcoal grill to complete your outdoor kitchen. Picture it with a margarita in your hand.

West Sport in Sudbury has the best grills for your outdoor living space. From built in gas grills to charcoal grills, to combo gas and charcoal grills from Kamado Joe as well as pellet grills. If you want to grill over charcoal, then nothing beats the Kamado Joe. Lump Charcoal provides great taste, and these charcoal grills are the best on the market. Gas grills are what you are interested in? Choose from the top gas grill manufacturers. Select from the best companies and the best products to work with so you can experience grilling performance and satisfaction.

This summer is guaranteed to be full of fun and great times in your new outdoor living space. Contact us to see what grills will work best in your space, and we will make your home resort come to life!

We offer top of the line built-in grills for outdoor kitchens. We'll even help you with the layout. We can custom build an outdoor kitchen for you or you can build your own. With several brands of gas grills, charcoal grills, pellet grills and built-in grills, we can help you with all of your outdoor kitchen needs.