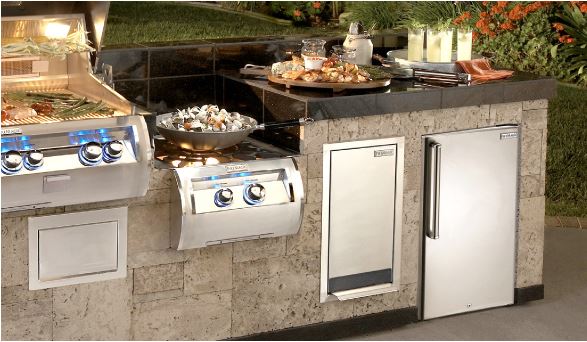 Outdoor kitchens
have exploded in popularity recently. They allow homeowners to entertain, relax and simply eat family dinners outdoors without making too many trips indoors. Homeowners who already eat outside often will likely enjoy cooking outdoors.
Which features do you need in an outdoor kitchen?
Maybe you don't need draft beer on tap or a giant fireplace or TV. But you should definitely include a water supply, a direct gas line for grilling, and a mini refrigerator for beverages. Homeowners can also add amenities, such as appliances or sink and beautiful, functional countertops.
Install a nice built-in grill if the seating area and patio already exist. Besides the premium, built-in grill or smoker, additional features depend on the homeowner's space and budget. A lot of clients install outdoor refrigerators, trash drawers, sinks for preparation and even drawers for storage of grilling items.
But, no matter what you decide, you can get everything you need for your outdoor kitchen all in one place. Design, Build, and grill. Contact West Sport in Sudbury.
knoxnews.com