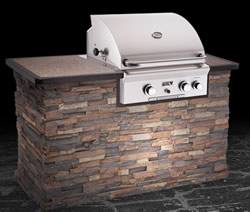 Outdoor kitchens are quickly becoming the most popular gathering space in the home.
And why not? Outdoor kitchens can come complete with pizza ovens, gas and charcoal grills, keg tappers, wine chillers and more. They can be the epicenter for home entertaining. And can be used to store, prep and serve your favorite dishes.
How would not want to have an outdoor kitchen in their home?
According to a survey of residential landscape architects by the American Society of Landscape Architects, 92% said outdoor living spaces are a popular design element in the coming year.
Not only do outdoor kitchens add to the quality of life at home, outdoor kitchens can have a return on investment similar to an indoor kitchen remodel.
Outdoor kitchens can range from a high quality grill, some cabinetry and countertop all the way up to something that resembles a backyard sports bar and grill complete with TV, sound system, keg tapper, pizza oven, grill and refrigerators.
With so many options available to homeowners, Russ Faulk, a nationally recognized expert on outdoor kitchen design has several tips to keep in mind when thinking about creating an outdoor kitchen, no matter the budget.
A Better Fire
There's one rule that should never be broken when deciding on appliances for the outdoor kitchen. That rule is "never scrimp on the grill."
"A grill drives overall satisfaction with the outdoor kitchen. When choosing a grill, think about the kind of cooking you aspire to, not the kind you do now." "There are no uniform depths, widths or heights, so if you have a grill built into a countertop and you no longer like it, it may be a serious headache to have the grill replaced and the surrounding counter recut to fit it."
Avoid Common Mistakes
Insufficient lighting and counter space are the two most common mistakes seen in outdoor kitchens. These mistakes greatly limit how well the kitchen works. Without enough lighting around the grill, it's hard to cook at night, especially in the spring or fall when night comes earlier. Place lighting around or over the grill to see food being cooked, but make sure the lights' beams are not blocked by the grill hood, causing a shadow to be cast over the cooking surfaces.
High quality grills should have 24 inches of counter space on one side and 12 inches on the other, so the cook can take food from one platter and put it on the grill. After the food is done, the cook can take it off the grill and place it on a platter on the other side of the grill. Sinks should have 18 inches on either side to give enough room to wash food or stack dirty dishes.
To protect from rain and the elements, weather-tight cabinetry is another good investment. There are different ways to keep the inside of a cabinet dry, including magnetic gaskets that create a seal, or rain gutters—which are built into Kalamazoo Outdoor Gourmet's cabinetry—that surround the door and drawer openings to channel water away.
Whether you're adding a grill and counter space to your backyard or building a fully-equipped outdoor kitchen, incorporating design fundamentals is key. It will ensure that your family and friends will have a truly memorable experience—every time, for years to come.
For more information on the perfect grill for your outdoor kitchen, contact West Sport in Sudbury.
ellwoodcityledger.com