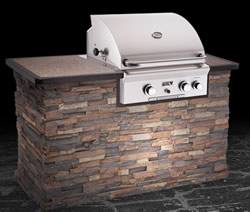 Homeowners are always wondering what remodeling project will bring them the best return on their investment. Is it a third bathroom, a revamped kitchen, a bigger closet in the master bedroom? After an especially brutal winter, why not treat yourself and your backyard to a present this spring? Build an outdoor kitchen.
Not to mention, a top selling point when you put your house on the market is an attractive outdoor kitchen on your patio. Not just a charcoal grill plus a picnic table; it's got to be a space that will invite family and friends to visit your backyard and stay a while.
Just to give you an idea of how hot grilling is in America: The Hearth, Patio & Barbecue Association says that 8.2 million gas grills, 5.9 million charcoal grills, and 280,000 electric grills were shipped from factories to stores last year. America is really cooking outdoors.
Of course, the start of spring is a great time to set up that second kitchen outdoors. Here are some ideas to remember in building a brand new grilling/dining area or remodeling an old one:
Think carefully about the best possible position for the outdoor grill and the dining table. You need to create an environment for your outdoor living space."
Remember that existing or new "walls" can help you create an outdoor room. You might want to build a small privacy wall near your house and then put your kitchen up against it. You might want to use a column of a covered patio as the anchor for a counter and barbecue space.
Think shade. Creating an outdoor room that is inviting for family and friends means you need lots of shelter from sun. Possible additions to your plans: umbrellas, pergolas, shade sails, or a cover for your patio. Of course, by the time dinner starts, the sun may have set, so make sure to add extra outdoor lighting so you can see what's on your plate.
It's desirable to have a patio kitchen as close as possible to your indoor kitchen. When you are just a few steps away from all your indoor appliances and supplies you will end up keeping costs down. After all, if your kitchen is way out there you might need to add more conveniences like a sink, a dishwasher and a small refrigerator. Those amenities can be costly; running gas, electricity and water out to those appliances can be pricey, too.
You can keep down costs. Build your hardscape in stages. Maybe start with a standalone grill and try it in several spots before deciding on a built-in gas grill so you don't make a costly mistake.
For more information on outdoor kitchens, contact West Sport in Sudbury.
azcentral.com