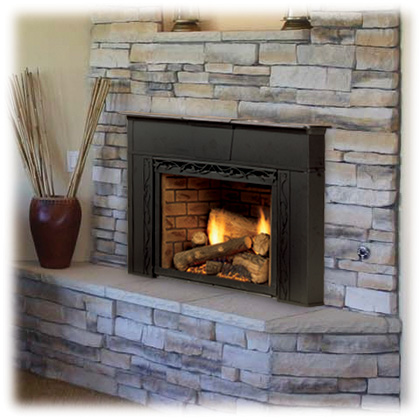 Fireplace inserts are a great way to update an existing masonry fireplace.
A traditional open-front wood-burning fireplace usually has an efficiency rating of just 5-10%, according to the Hearth, Patio & Barbecue Association. A new fireplace insert utilizes an insulated closed-combustion system that increases heat output and promotes efficiency.
To be a candidate for a fireplace insert, you must have an existing masonry or factory-built fireplace with a working chimney, and you'll select the insert's size based on the existing opening.
The type of venting required by a new insert varies. Natural venting through the existing chimney is possible; direct vent and vent-free options are options as well, depending on your fuel choice.
The cost and availability of fuel in your area, the overall maintenance required, and the desired look are all factors to consider when choosing an insert. Wood, gas (natural or propane), and pellets are the most common fuel sources for fireplace inserts.
Wood burning fireplace inserts
When searching out a wood-burning insert, look for an EPA-certified appliance to help protect the environment and your indoor air quality. Many inserts feature an airwash system to keep the glass panel clean and clear. Others come with a blower with multiple speed options that make it easy to quickly heat spaces ranging from 1,200 to 2,200 square feet.
Many gas inserts fit well in modern interiors, but they can fit with any decor. They often have a reflective black glass interior and and can offer wood like fires or linear flames. Direct venting ensures combustion exhaust and fumes are fully removed from your home's interior, and a smart intermittent pilot ignition system adds an extra level of safety and energy savings.
Thanks to its use of recycled sawdust pellets as fuel, pellet inserts heats things up in an environmentally friendly way. With a convection blower, auto igniter, and airwash system to keep the glass crystal clear, they have the efficiency of a pellet stove housed in a recessed fireplace opening. The hopper holds pellets, making refueling infrequent. And if you're worried you'll miss the traditional look of logs on a fire, an optional decorative ceramic log set is available.
For more information on fireplace inserts for your home, contact West Sport in Sudbury.
BobVilla.com