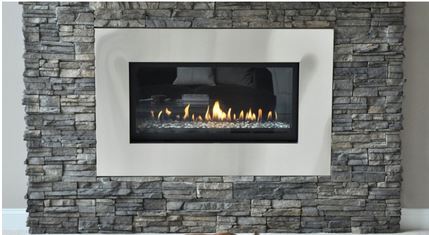 Most homeowners around Natick and Sudbury love to enjoy a bright, burning fire in the winter. But, open fireplaces are boring and inefficient. There are plenty of gas fireplace and fireplace insert options, but many are traditional and may not fit with your modern home and décor.
Montigo is one of the first to bring to market a linear designed fireplace, and now offers the largest selection of modern fireplaces demanded by designers, architects and homeowners wanting to create and enhance their modern and contemporary space.
When it comes to choosing a gas fireplace or fireplace insert that can work for you, your lifestyle, and your décor there are a number of factors you'll need to consider.
Style
Quality
Safety
Customization
Technology
Value
The Montigo gas fireplaces and gas fireplace inserts have decades of manufacturing excellence behind them. Montigo wraps everything above into the perfect fireplace for your home – customized to fit your style and space.
Unlimited Installation Possibilities
As a homeowner you will appreciate the ability to feature fire in just about any location in your home. With the proprietary power venting system, a Montigo fireplace or insert can be installed anywhere – even 550' away from the closest venting location!
Compact Installation Parameters
When it comes to installation, Montigo designs and engineers each fireplace to have the most compact installation parameters. This means less confining installation parameters behind the fireplace wall.
For more information on modern fireplaces, contact West Sport in Sudbury.
More information - Montigo