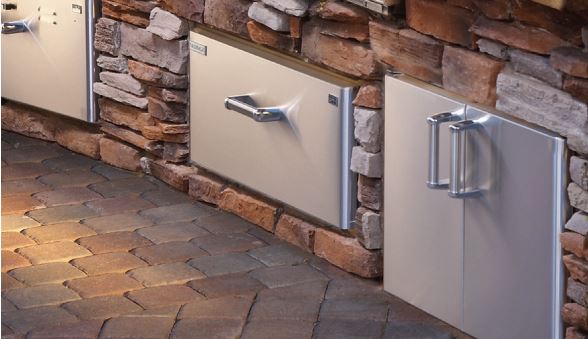 Yesterday's patio has become today's outdoor kitchen or conversation nook.
All of the home design trend-watchers are saying that outdoor living has gotten bigger and better over the past few years.
Traditional portable grills are being traded in for pizza ovens, built in island gas grills and outdoor kitchen appliances. Tiki lamps are being replaced by sconces and lanterns. And there are outdoor mini-fridges that reduce those trips back into the house.
The notion of spending more time living and relaxing outside has become practical due to advances in fabric and furniture design.
More people are thinking about using more of their property as living space. Furniture is getting bigger and more decorative — options for the outdoors used to be limited because you would think first about how long everything would last. Now you have real sofas where there used to be all of that metal.
Just as the comfort foods of an earlier era have made a big comeback, homeowners have begun to savor those long spring and summer evenings outdoors that some of us associate with growing up in the 1950s and 1960s.
Being outdoors can bring back a sense of community. That's how people meet each other. You don't do it sitting behind a locked door and waiting for someone to knock.
Outdoor living gives people a chance to experiment with design ideas they might be afraid to try indoors.
It's a good place to take a risk and have some fun. You can be bohemian, eclectic. I think most people are more willing to try bold patterns outside.
Inside you can get a little bored because it's such an investment — outside you have more license to play.
Putting a living space together outdoors can be freeing. You can create something that is a lot of fun.
Spending more time living outdoors with outdoor kitchens can give homeowners a new perspective on their interior spaces when they head back inside in the fall.
For more information on creating an outdoor living space, contact West Sport in Sudbury.
CT Post