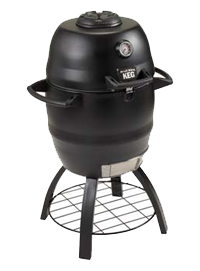 Spring is here and it's time to expand your grilling experience and enjoy true cooking with great flavor. The Broil King Keg is an innovative charcoal grill that offers so many advantages over traditional charcoal grills and other kamado-style grills.
This grill gives the beginner and the expert true cooking performance with authentic BBQ flavor. The Broil King Keg is an attractive charcoal grill that looks differnt from all the rest and works better than all the rest.
Unlike most ceramic "kamado-style" grills, the Keg's durable body is made of double walled steel with high-grade insulation in between. This technologically advanced design keeps the heat in, creating a very efficient, thermal convection-style oven while delivering superior cooking performance. Grill, smoke, bake, roast, slow-cook - every style cooking for great delicious food. Contact West Sport in Sudbury for more information.
Hear what one customer is saying:
★★★★★ 5 out of 5 stars.
Unbelievable Results!
The Keg is awesome. Pork butt, ribs, brisket, pastrami has all turned out delectable. There is no need to hesitate if you are thinking of one of these....you wont be sorry. We can do low and slow in the Keg for over 12 hours with charcoal left. Light it, set it and just occasionally check on it and supper is perfect every time. If I knew it was this good I would have had one years ago.