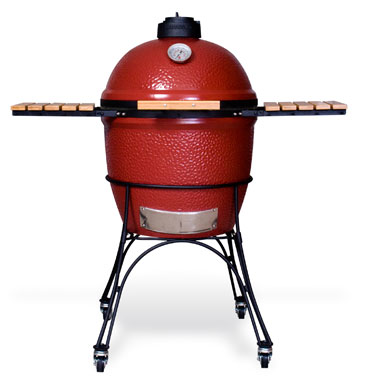 Are you looking for a new charcoal grill? If so, don't settle for a cheap kettle grill, look at a Kamado Joe charcoal grill. Kamado Joe is a ceramic charcoal grill with a huge advantage, its ability to insulate. Not only does this require less total heat for cooking, it also lets you cook at significantly higher temperatures or at very low temperatures for a significantly longer time. Combine this with the ability to control and fine-tune temperature, and you get a charcoal grill that you can use for anything and everything.

Not only is the Kamado Joe charcoal grill attractive, making it a great conversation piece, but it can also grill, sear and smoke!

Grill

Kamado Joe is a charcoal grill first and foremost. Kamado Joe is a grill. Its ceramic construction and unique egg shape, along with using lump charcoal, mean your grilled meats are more moist and with better wood-fire flavor.

Sear

Kamado Joe will sear your steaks. Thanks to how well the Kamado Joe insulates and the ability of lump charcoal to generate very high heat, you'll be able to sear at temperatures up to 750° F. This means you can sear a steak. It will come off sizzling, just like it does at the high-end steak houses.

Smoke

Kamado Joe is a smoker. With Kamado Joe's ability to control temperature and thanks to the long-burning qualities of lump charcoal, you'll be able to use your Kamado Joe as a smoker or a slow cooker (it will maintain low temps for up to 12 hours without adding lump charcoal).

For more information, contact West Sport in Sudbury. In the month of May, we are offering $50 off and a bag of hard wood charcoal with your purchase.