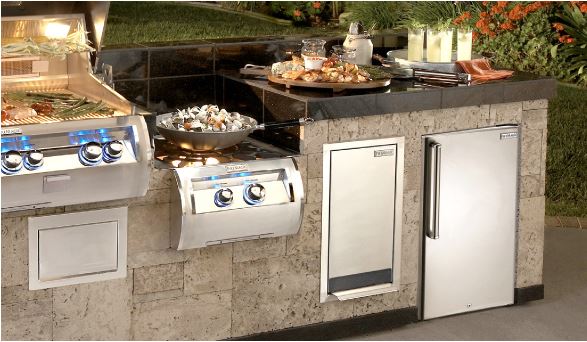 An outdoor kitchen and outdoor living space adds extra functionality, comfort, and versatility to your home, and you can create one at a much more affordable price than an indoor home improvement or addition.
For smaller houses, outdoor space is an essential extension of your home — but regardless of house size, you should make the most of it.
It takes planning to create an outdoor kitchen that's both beautiful and affordable. Here are some of his tips to get your project started:
Create a budget
Before you can start making real plans, you need to know how much you can afford to spend. Set a budget, and work off of that.
Focus on function
An outdoor space can do a lot compared to an indoor space. Is it a patio or lawn? Will it be used for entertaining, cooking? You can have a built-in gas grill or a full outdoor kitchen, a roof to keep out of the weather, a fireplace. The possibilities are almost endless.
Set your priorities
When you're working with a budget, it's necessary to prioritize. There are things that you want and things that you need. You may not be able to afford everything you want, but you want to have your needs covered.
Pick an aesthetic
Aesthetic is an important part of creating any living space, including one that's outdoors. Be sure to create a style that is a reflection of you and your family. It gives your home that personal touch, like a fingerprint.
Choose your materials
Natural stone is a lot more expensive than synthetic. The good news, if you're on a budget, is that they both are durable and look good. Today, the engineered product is as good as natural. You won't even be able to tell the difference.
Design
The design pulls all of these choices together. Your design will help you visualize the finished space and understand what may or may not be feasible with the size you're working with.
There are lots of options, from small backyard patios to larger rural spaces.
To learn more about designing your perfect, affordable outdoor living space, contact West Sport in Sudbury.
theintell.com