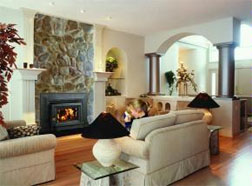 Here comes the snow. Hearthstone is having its mid-winter sales event, which means you can get $400 off any Hearthstone wood burning fireplace insert, wood stove, gas stove or gas insert. Hearthstone wood and gas inserts are on sale now through February 29th. Get $300 off anything Hearthstone. And the Clydesdale Wood Burning Fireplace Insert may be one of the most beautiful wood burning inserts you have ever seen.
Burning wood is one of the most romantic, beautiful and satisfying ways to heat your home. And, it is very economical, but is also gives you the additional benefits of a beautiful flame, relaxing warmth, a romantic ambiance and increased home value.
With wood you will even stay warm when the power goes out.
Now is the time to consider how to transform your fireplace and your home. At West Sport, we would like to help. In fact, send in your contractor and you'll even get 15% off your entire home remodeling or home addition project.
Transform your fireplace into a beautiful heat source and enjoy winter again. The Clydesdale, and everything Hearthstone offer a combination of both power and beauty. Contact West Sport in Sudbury for more information.