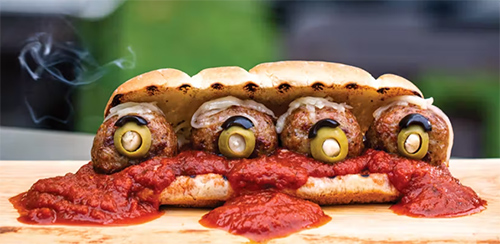 Whether made from scratch or bought fresh from the grocery, meatballs are smokey bombs of beefy joy. Meatballs nestled in a grilled bun on a heaping layer of marinara sauce also make great...eyes.
Your meatball sub might have taken a scary turn, but we guarantee it's still just as delicious.
Scary Eyes Meatball Sub
Ingredients:
12 Meatballs, raw
3 sub rolls
1 cup marinara sauce
½ cup shredded mozzarella cheese
12 green olives stuffed with garlic
6 black olives, sliced
Instructions:
Prepare the grill for direct grilling over medium heat (350º to 450º F).
Slice each olive approximately ¼-inch from the opening so the garlic stuffing shows. Slice each black olive in half.
Brush the cooking grates clean.
Grill the meatballs over direct medium heat, turning several times, for approximately 8 to 10 minutes.
Split the sub rolls and grill cut side down over direct medium heat until marked, approximately 30 seconds.
Equally top the bottom of each roll with marinara sauce, 4 meatballs, and cheese.
Place a green olive and black olive slice on each meatball so they resemble eyes and eyebrows.
Serve warm.
weber.com