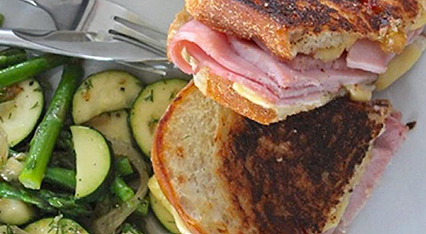 Ingredients
For the grilled ham and Gouda:
8 thick slices good-quality bread
4 tablespoons mayonnaise
4 tablespoons red pepper jelly
10 to 12 slices leftover roast ham (about 1 pound total)
1/2 pound Gouda, thinly sliced
For the Easter veggies:
Juice of 1 lemon
1 tablespoon fruit preserves, such as apricot or peach
2 tablespoons chopped fresh dill
3 tablespoons extra-virgin olive oil
Salt and ground black pepper
4 cups roughly chopped (as needed) prepared green vegetables, such as asparagus, zucchini or peas
Directions
Place a large skillet or griddle pan over low heat. Lay out the slices of bread on a work surface and spread a thin layer of mayonnaise over each one. Flip each slice over and spread a thin layer of red pepper jelly over each one. Build the sandwiches by dividing the ham and Gouda among four of the slices and closing them so that the mayonnaise is on the outside.
Place the sandwiches in the skillet and cook, turning once, until golden brown and heated through.
While the sandwiches are toasting, in a large bowl whisk together the lemon juice, preserves, dill, olive oil and some salt and pepper. Toss the green vegetables with the dressing and reserve. Cut the sandwiches on a bias and serve warm along with the vegetable salad.
Source: Recipe/Image:
cookingchanneltv.com