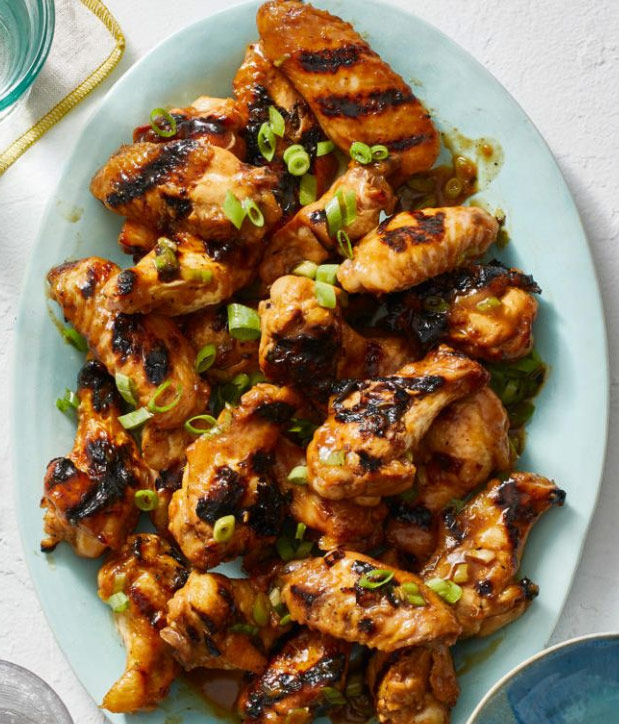 These grilled wings with bourbon are perfect for entertaining.
Grilled chicken wings hit every note (both for party guests and for a quick family dinner): sweet, saucy, smoky, and just a little spicy. They're the perfect easy option for backyard summer parties or weeknight comfort food cravings. Plus you can brush the apricot-bourbon glaze on pork chops, chicken, or salmon.
Ingredients
3/4 c. apricot preserves
3 tbsp. bourbon (we used Jack Daniels)
2 tbsp. fresh lime juice
2 tbsp. low-sodium soy sauce
1/2 tbsp. sriracha, optional
2 1/3 lb. chicken wings, separated, tips discarded
Chopped scallions or cilantro, for serving
Directions
In a large bowl, whisk together apricot preserves, bourbon, lime juice, soy sauce, and sriracha (if using) until smooth and combined. Transfer 1/4 cup to a small bowl and set aside. To sauce in a large bowl, add chicken wings and toss to coat. Cover and refrigerate at least 2 hours and up to 4 hours.
Heat grill to low. Place wings bone side down on grill and grill covered 10 min. Flip and continue grilling until cooked through, 10 to 15 minutes more. Toss with reserved sauce and serve sprinkled with chopped scallions or cilantro.
Enjoy your Memorial Day and your wings!
Recipe/image: goodhousekeeping.com