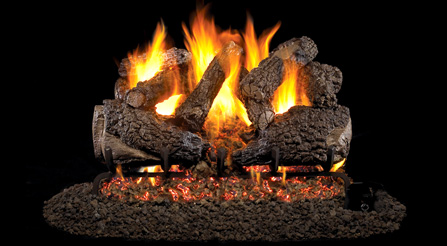 If you have an open wood fireplace that you use more for ambiance than heat, you can make it more efficient and more beautiful without spending buckets money. By adding glass fireplace doors to a tradition open masonry fireplace you will increase the efficiency of your entire home. No more throwing heating dollars up the chimney. But, in addition to efficiency, fireplace doors make your fireplace much more attractive and changes the look and feel of the entire room.
You don't need a new wood or gas fireplace insert to make your fireplace more efficient and more attractive. Even if you don't use your fireplace daily, you should still make it more efficient. Open fireplaces draw the heat from inside your home out through the chimney. If you use your fireplace sporadically for ambiance, add glass doors.
If you want to use your fireplace more often, but just don't like dealing with stacking and hauling wood, add gas logs to your open fireplace. With the push of a button, you can have a fire to relax to after a long day at work. Gas logs are hand crafted and hand painted to look like real wood. And a gas fireplace is as realistic as a real wood fire.
Adding custom glass fireplace doors and gas logs to your open fireplace can make any winter day or night more enjoyable and more comfortable. For more information, contact West Sport. Sale on glass fireplace doors and gas logs now through November.