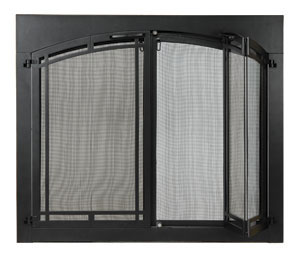 The temperature is dropping and many homeowners love to use their fireplaces this time of year. But, as many people know, an open fireplace is inefficient. A better, easy way to use your fireplace is to install gas logs and custom fireplace doors. Gas log sets and fireplace doors are an easy, economical way to improve the efficiency of your fireplace while making your home more beautiful at the same time.
Maybe you have contemplated a new wood or gas fireplace insert, but you are not convinced that this is the best option for your home or your lifestyle. Gas log sets and fireplace doors, or just glass fireplace doors are a perfect way to beautify your fireplace while making it more user friendly and more efficient at tha same time.
If you want to add efficiency and beauty to your existing masonry fireplace you can with glass fireplace doors. With custom glass fireplace doors, no longer will the heat from your home be sent out the chimney. Adding a gas log set means that with the touch of a button, you could have a beautiful, realistic burning fire instantly. No work, no mess.
If you only use your fireplace for ambiance, you can and should make it more efficient. Fireplace doors will do this. Traditional open fireplaces draw the heat from your home up and out the chimney. If you just want to enjoy your fire you are paying more to do so without a glass enclosure. Change the look of your hearth and make it more efficient just by adding glass fireplace doors.
Standard and custom-made fireplace doors are the answer to an easy, beautiful, efficient fire. Custom glass fireplace doors can be created in any shape or size.
Contact West Sport in Sudbury for more information on glass doors and/or gas log sets.