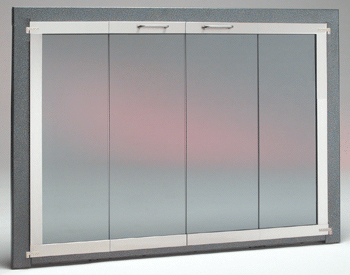 The latest version of the model Energy Code requires gasketed fireplace doors on all new construction. That includes new homes or home additions. Massachusetts, along with 17 other states, has adopted the law.
Section 402.4.3 of IECC 2009 states: "New wood-burning fireplaces shall have gasketed doors and outdoor combustion air."
This means that it is a requirement that newly constructed masonry fireplaces be equipped with gasketed doors in Massachusetts.Gasketed "Air Seal" fireplace doors are available as a remedy for homeowners who need are remodeling or building a new home. Glass Fireplace doors are also perfect for homes that experience cold air infiltration down their chimney because of negative pressure.
The advantage to glass fireplace doors for new construction is that they are sealed fireplace doors! Sealed fireplace doors keep the heated and cooled warm air from going up the chimney and keep any unpleasant odors from the fireplace out of the room. No fireplace door is completely airtight, but the gasketed doors at West Sport in Sudbury save approximately 99% of energy loss. Make your masonry fireplace more than a décor item, lower your heating bill, and meet the new state and local building codes with glass fireplace doors.
If you are beginning a new construction project, home addition, or renovation, have your contractor get in touch for information on contractor deals and specials. Contact West Sport in Sudbury for more information on air-tight fireplace doors!