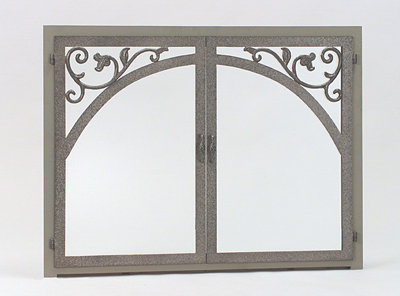 Many homeowners in the Sudbury, Lexington and Concord area want an easy way to use the fireplace. They have beautiful homes with beautiful open hearths and expansive chimneys that are a real focal point in their living room or great room. But, they don't want to fuss with logs or lighting a fire. They just want to enjoy their fireplace. Gas logs and glass fireplace doors are the easiest way to do this.
If you are a homeowner that loves your fireplace and hearth for ambiance with heat being an extra advantage, consider switching from wood to gas and adding gas logs and beautiful custom glass fireplace doors.
Gas logs and glass fireplace doors are an easy and beautiful way to use your fireplace. With the flick of a switch you can enjoy a beautiful fire after work or during the next snow storm. Beautifully made custom fireplace doors can enhance the beauty of your hearth and chimney too. Another added advantage is you have so many options when you choose glass doors. You can easily match your décor, making your hearth whatever you want it to be.
Gas logs are hand made from ceramic and very closely resemble real wood burning logs. There are styles of gas logs to meet every style décor and let you experience the beauty and warmth of a wood fire without the hassle of wood.
With custom-made glass fireplace doors you can also dramatically increase the efficiency of your hearth and transform your fire into a work of art while adding efficiency.
For more information, contact West Sport in Sudbury.