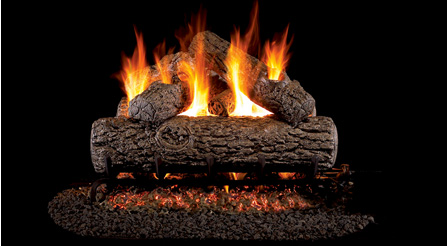 The weather is cold and it just keeps snowing. During this type of weather, it is nice to be able to come home and relax in front of a fire. But, who wants to lug firewood, and struggle with lighting a fire. With gas logs and glass fireplace doors, you can have a beautiful fire burning in the fireplace in seconds.
Gas logs burn like a real wood fire. But you don't have to stack, split and transport firewood. All you have to do to start the fire is push a button on the remote control. When you are done, turn the fire off with the same flick of a switch. Gas logs and glass fireplace doors are incredibly convenient.
You may have a traditional open hearth and maybe you are trying to decide how to revamp it and make it more attractive and more efficient. Well, there are many advantages of gas logs in Sudbury.
If you are switching from wood to gas logs, be sure that you buy the right size log set for your fireplace. If it is too small, the display is not as attractive, if it is too large, the logs don't sit right within the fireplace and it won't vent correctly.
Gas logs are hand-made and hand-painted to beautifully replicate real wood. You can decide what style logs you would like and adding custom glass fireplace doors creates a beautiful focal point in your home all year round. Glass fireplace doors make the fire more efficient, helping the fire to vent correctly, keeping the warm air in your home from going up the chimney and keeping cold air out of your home when the fire is not lit.
When you install gas logs and glass fireplace doors, you will have endless hours of cozy relaxation and ambiance added to your home. And, no more dealing with firewood.
For more information on gas logs and glass fireplace doors, contact West Sport in Sudbury where they are on special all month long!