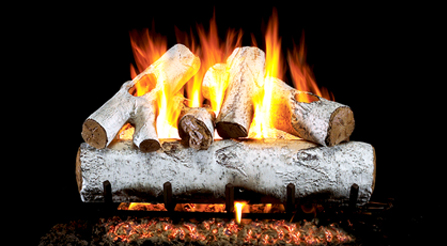 Marcus Tullius Cicero said, "There is not place more delightful than one's own fireplace."
Certainly in Metro West Boston in the middle of January, while the cold weather is upon us, this is the case. But if you have an open fireplace, there is a better way to run your fireplace without the high cost. If you are an occasional fireplace user because of the nature or design of your fireplace, now is the time to make the change.
Gas logs and glass fireplace doors are an easier way to make your fireplace more efficient and easier to use while still costing far less than a fireplace insert. Open fireplaces draw the heat out of the room and up your chimney. Wood burning fireplaces take effort, hauling and stacking firewood.
For these reason, open fireplaces are not too easy or efficient to use. Certainly, after a long day at work, the last thing you want t to do is load up the fireplace and light the inefficient fire. Gas log sets and fireplace doors allow you to be able to use the fireplace whenever you desire, even after a long day at work.
Gas logs are lit by flicking a switch. Push the button the fire is blazing. Peterson Real Fyre gas log sets have a look that is incredibly similar to natural wood. In fact, they are all hand-crafted and hand-painted from real wood samples. And, you have more than 40 styles of log sets to choose from. Real Fyre gas logs are the most realistic looking gas logs on the market.
Gas logs and standard glass fireplace doors are faster to install than fireplace inserts, which means you can enjoy them for the rest of the winter. There is nothing like a fire with Real Fyre gas logs, and the fire you burn will be the cleanest, most economical, most convenient alternative to burning real wood.
For more information on gas logs and fireplace doors, contact The Fireplace Showcase in Sudbury.