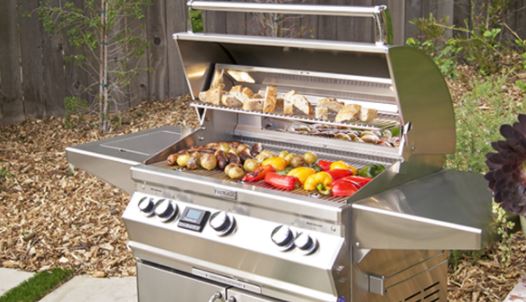 When you choose Fire Magic gas grills you are purchasing the finest grill available, backed by the industry's best and longest warranty – and the most dedicated, customer focused people in the business. Our grills are an investment that pays dividends for years and years. They're engineered and built to perform for a lifetime. So the pride and joy of owning your Fire Magic Grill will last you a lifetime.
Right now you can save up to $1000 on an Aurora Fire Magic Gas Grill at West Sport in Sudbury.
Aurora Grills Features
Superior design and engineering power the Aurora's unparalleled performance. The Aurora Series grill delivers cooking versatility, durability and longevity in a beautifully crafted machine.
Features
Diamond Sear Cooking Grids All 304 stainless steel trapezoid cooking grids provide greater cooking surface for even heat and great searing.
Analog Thermometer Analog thermometer with polished stainless steel bezel in hood measures up to 1000° F.
Hot Surface Ignition Hot surface electronic ignition provides reliable lighting for every meal. Requires 120 Volt AC power supply.
Comfort Touch Knobs Knobs are at a 40° angle to easily see how to operate; and have comfort-touch grips for safety and convenience.
Cast Stainless Steel Burners 1/4" thick cast stainless steel "E" burners for consistent, even heat and a lifetime of durability.
Halogen Interior Lights Interior halogen lights make evening grilling a breeze.
Gourmet Face Seamless control panel with satin finish. Optional digital thermometer available as an upgrade.
Stainless Steel Backburner Optional stainless steel backburner and a complete rotisserie kit with a polished stainless steel cover for protection.
Optional Magic View Window Optional Magic View Window available on Aurora A790 and A660; a Grill Top Thermometer (#3573) is provided at no extra cost.
For more information on Aurora Fire Magic Gas Grills, contact West Sport in Sudbury.