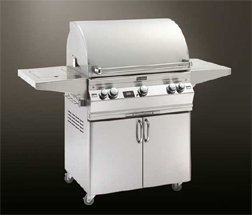 Are you in the market for a new gas grill? If so, West Sport in Sudbury has what you are looking for. Inventory Clearance on gas grills, we need to make room so everything is marked down! There are 48 brand new gas grills in stock and on sale. Don't forget, free delivery and assembly on every gas grill in stock and we service everything we sell.

All of our sale grills are gourmet gas grills at rock bottom prices. If you have been wanting to buy a new grill, add an outdoor kitchen, or enhance your backyard patio, here is what we have to offer:

Broil King - Broil King gas grills are built to perform, giving you versatility in outdoor cooking. The Broil King cooking system gives you the ability to cook almost anything on your grill in any style you want. You can sear, rotisserie cook, or you can use your grill like your oven, using indirect heat. Broil King gas grills are the choice of grilling enthusiasts who love casual outdoor living and great tasting food.

MHP - MHP makes innovative outdoor gas grills that enrich your backyard experience and complement the style and function of your patio, deck and home. These gourmet gas grills are built of the finest grade weather-resistant materials and are made in the USA.

Broil Mate - You will get the results you want with Broil Mate gas grills. They are built to give you optimum grilling performance for great meals every time. An efficient, effective cooking system with beautiful style, Broil Mate gas grills have been designed for the grilling enthusiast.

Delta Heat – Delta Heat makes built in gas grills and free standing gas grills that are perfect for your outdoor kitchen or patio. These gas grills have an innovative design and are performance engineered.

For more information on our gas grill clearance sale, contact us.