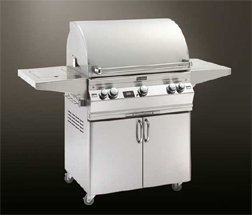 If you are in the market for a new gas grill, you're in luck. West Sport in Sudbury is having a grill clearance sale on everything in stock. We have lots of inventory so we are offering discounts on all makes and models. And, don't forget, you also get free delivery and assembly on every gas grill in stock and we service all the grills we sell as well.
Our gas grills are gourmet gas grills. We have models that are perfect for the novice griller or for the stay-at-home chef. And, now you can buy a new gas grill at a great price. Summer is finally here, and now is the time to vacation, even if your vacation is in the backyard. You deserve a new gas grill for delicious outdoor grilling.
If you want a new grill so you can enjoy your patio this summer and all year round, talk to us at West Sport, We have gas grills that are built to perform and enough styles, sizes, brands and models to offer you versatility in outdoor cooking.
For more information on our gas grill sale, contact us.