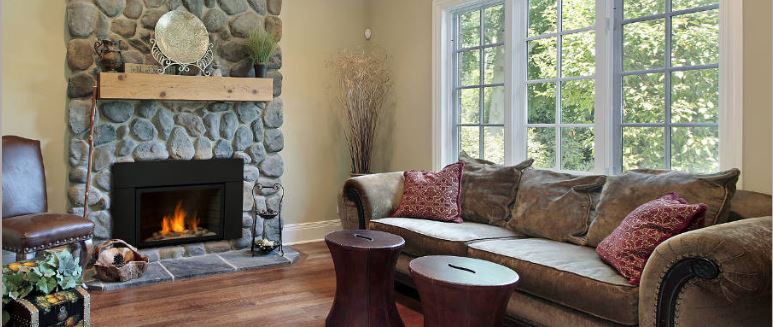 The temperature regularly fluctuates for the next few months; but let's face it, in Massachusetts we often need supplemental heating, especially at night, even through June. This is the right time to buy a gas fireplace insert. If your fireplace looks outdated and is inefficient to use, consider your options for updating it and making it more attractive. A gas fireplace insert can keep your home warm and cozy for all three seasons.
The firebox of the insert for fireplaces is fitted directly into your fireplace. This transforms your old, open fireplace into an efficient and attractive focal point in any room. With decorative trim and large glass viewing window, an older hearth is turned into a modern looking heat source. Unlike, traditional open masonry fireplaces that allow heated air to go up and out the chimney, gas fireplaces are 75-80% energy efficient because the cast iron or steel sealed firebox prohibits heat to escape up the chimney. Additionally, gas fireplace inserts are cleaner to use, with no mess and no ash. Plus, with the flick of a switch, you have instant relaxation and ambiance.
Right now is the time to view gas fireplace inserts during the renovation sale. Purchase your insert now and save. Contact The Fireplace Shop and Grill Center at West Sport in Sudbury, MA.