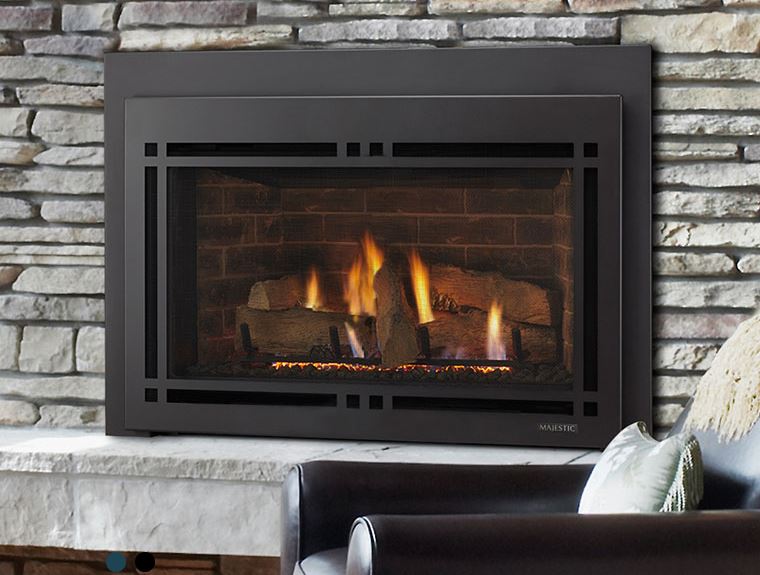 A gas insert is an easy, convenient way to heat your home and to make a traditional open fireplace more attractive. Gas fireplace inserts are a firebox that's surrounded by steel or cast iron with an insulated glass window for viewing. This sealed box prevents the heat from going up the chimney and forces it into your home instead. Many gas inserts have a blower that helps even more to force the heat into your living space. Fireplace inserts, both wood and gas, are placed directly into your existing open fireplace.
Energy efficiency is one of the biggest benefits of adding a gas insert to your home. Gas Fireplace Inserts average 75% - 80% efficiency and use less gas than gas logs. They can also be thermostat controlled for even heating.
Right now, at West Sport in Sudbury, the Majestic Ruby Gas Fireplace Insert is on sale for $300 off.
Ruby Series Direct Vent Gas Insert
Ruby series gas inserts make relaxing simple. Convert your high-maintenance wood fireplace into a source of warmth and enjoyment.
A quick look:
Strikingly realistic split logs and flames
Simple start-up and use for continual enjoyment
Adjust flame, heat and ambiance
Heat with more than 70% efficiency
Available in 30" or 35" models
Up to 35,000 BTUs
For more information, contact The Fireplace Shop and Grill Center at West Sport in Sudbury, MA.