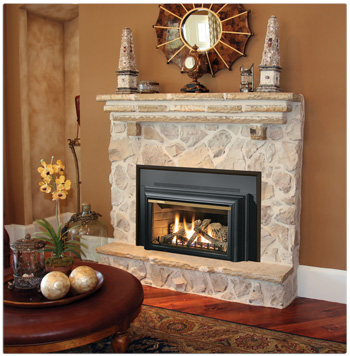 This is the time of year where enjoying that warm, cozy glow coming from a fireplace on a cold winter's night is a great way to spend an evening.
Cozy, warm, efficient fireplace inserts can be easily installed into an open masonry hearth with little fuss and no mess in any home, new or old.
People love a fire in the fireplace. The conversion from wood to gas has been a big thing over the years, but both wood burning fireplace inserts and gas fireplace inserts are popular around Metro West Boston.
Gas or wood fireplace inserts are sealed for combustion and create a more efficient heat source than open fireplaces.
Gas fireplace inserts are a good choice to heat a cool room, basement or three-season porch, because they give off a lot of heat and are very efficient. In fact, they are more efficient than most furnaces.
They produce a ton of heat, they're very efficient and they can heat your home even if you lose power from a winter storm. It's almost like zoned heating, yet they look beautiful aesthetically.
Customers can choose from a wide variety of sizes and styles to fit any home décor. Wood logs, stones and glass beads come in several colors are also options to change the look of the fire.
Fireplace inserts can basically meet anybody's style or requirements. Flame size and height can be adjusted with a remote control and most gas inserts can be run with a thermostat for even heating.
If your home has a heating issue and you have gas available, a gas insert is a beautiful, efficient option.
For more information on wood and gas fireplace inserts, contact West Sport in Sudbury.
Excerpts - SiouxCityJournal