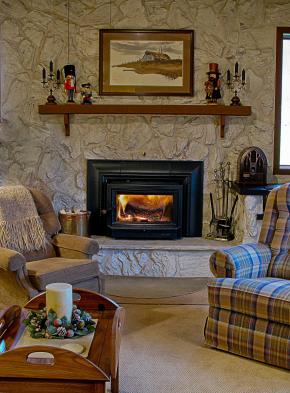 It may still be hot out, but fall is right around the corner. In fact, school starts in just a couple weeks. Fall and winter mean relaxing in front of the fire, watching football with family and friends, and holiday parties. If you have not purchased a fireplace insert yet, now is the time. The longer you wait to buy, the longer you will wait for installation. Right now, you can have your wood burning fireplace insert or gas fireplace insert installed in no time, and be ready to enjoy the colder weather.
Make your home more beautiful and heat your home more efficiently. Buy any fireplace insert right now and get the chimney lining system free at West Sport in Sudbury. This is a savings of up to $800. Want a cozy and inviting home just in time for fall? A wood burning or gas fireplace insert will change the look and feel of your home by adding ambiance, beauty and cozy heat.
Even though it isn't cold out yet, you can still enjoy your new fireplace insert because it's beautiful all the time. And you will certainly enjoy it this fall and winter because they are efficient and beautiful, and they will even increase your home's resale value.
New fireplace inserts create ambiance and become the focal point in your home because they are beautiful. Fireplace inserts help you relax after a long day, are more efficient than open fireplace and burn longer and hotter than an open fire. Wood burning inserts help you and your family stay warm and comfortable while creating a warm and welcoming atmosphere in your home. Come in to West Sport in Sudbury and check out our fireplace insert specials.