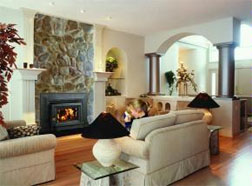 This past weekend we had a few flurries, but the really cold weather and snow is right around the corner. Thanksgiving is fast approaching with Chanukah and Christmas not far behind. This season means relaxing in front of the fire, gatherings with family and friends, and holiday parties. If you have not purchased your fireplace insert yet, now is the time. The longer you wait to buy, the longer you wait for installation. Right now, you can still have your wood burning fireplace insert installed in time for the season's festivities.
Make your home more beautiful and make your fireplace much more efficient; this is the season to buy a wood burning fireplace insert. Want a cozy and inviting home for the holidays and all year long? A wood burning insert will change the look and feel of your home.
Even when it isn't freezing cold outside you can still enjoy your new fireplace insert because it is beautiful all the time. Even if you are selling your home in the near future, you can enjoy it even more because efficient, beautiful, working hearths increase a home's resale value.
Have you seen a Hearthstone wood insert? Have you seen one with the fire burning inside? These inserts create an ambiance and become such a focal point in your home, they are beautiful. Fireplace inserts are so relaxing and make you so cozy when they are lit, you will never want to leave the room.
Wood burning inserts are a great way to stay warm and comfortable, and create a warm and welcoming atmosphere in your home. Come in to West Sport in Sudbury and see our Wood Burning insert with a beautiful fire inside. In fact, they are on-sale all November long, so don't wait.
Come on in and visit, you won't believe how pretty this wood burning fireplace insert is. For more information, contact us.