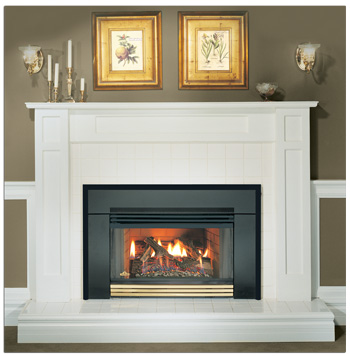 Heating and cooling your home makes up nearly half your utility bill. And it is very cold this winter, so you may be spending even more. Unfortunately, a portion of that expenditure is lost.
While most homeowners know that insulating, patching and weatherizing can reduce heat loss, there is one major energy eater in your home that you may not have considered -- that charming staple of dens, family rooms and anywhere people gather: the fireplace. Add a fireplace insert and make you home more efficient and more beautiful.
Traditional masonry style wood-burning fireplaces are a leading source of indoor air loss and draft, even more so than windows and doors.
Traditional wood fireplaces have a lot of charm, but unfortunately, they can be inefficient even when they aren't in use.
However, you don't need to sacrifice your fire this winter to lower your bill -- in fact, it's possible to convert your fireplace into an energy efficient heat source with the following tips:
Don't send your hard earned money up and out the chimney. When your fireplace is not in use, make sure your chimney damper is closed. You may also install a flue sealer, which is an affordable, inflatable stopper that fits below the damper to further seal off the chimney.
Ensure your chimney and fireplace is inspected, maintained and cleaned annually. A contractor can ensure the job is done safely and thoroughly.
Add glass fireplace doors or a cover to the front of your fireplace to help reduce the draft and add a nice aesthetic.
Consider a gas fireplace insert. In addition to lowering your energy bills and generating more radiant heat, they're cleaner to maintain -- no ash, soot, or smoke -- and are low maintenance, turning on and off with the flip of a switch. Plus, a new insert looks great and uses energy-saving firebox technology to increase efficiency. Learn more about the benefits of a gas fireplace insert by visiting West Sport in Sudbury.
For those who love the smell, crackle and process of building a real fire, don't despair. Pellet and EPA-certified wood inserts can be an easy, clean and efficient alternative as well.
In the pursuit of energy-efficiency, don't say goodbye to the tradition of a burning fire. Instead, give your fireplace a much needed upgrade with fireplace inserts.
For more information on fireplace inserts, contact West Sport in Sudbury.
KMA Land