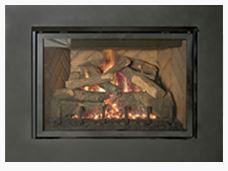 It is getting colder, but despite that, now is still a great time to think about an alternative, less-expensive, and more beautiful way to heat your home this winter. Regardless of how you heat your homes, fireplace inserts are a perfect supplemental heating source to cut down on energy bills while adding a focal point to any room.
Looking now at fireplace inserts means your insert will be installed faster and you can enjoy an efficient and attractive burning fire during the holiday season and beyond.
According to the National Association of Home Builders, fireplaces rank among the top three features desired by new home buyers. Unfortunately, fireplaces are also major air gaps—they can send up to 8 percent of heated air that you have paid for right up and out the chimney, making them really fun to look at but inefficient as heating sources. Here's the good news: You can transform your hearth into an efficient way to heat your home by adding an insert.*
A professionally installed wood burning fireplace insert or gas fireplace insert will draft-proof an open fireplace while efficiently and attractively heating your home. This investment pays for itself by cutting monthly heating bills and increasing the value of your home.
Transform your fireplace into a gorgeous heat source with large space performance. Peterson Gas Fireplace inserts are beautiful, with some of the most natural looking log sets on the market. Turn them on with a flick of a switch and they can be controlled by thermostat.
Hearthstone Clydesdale wood burning fireplace inserts are on sale now. Wood inserts they burn for a long time, so there is so little maintenance with this insert. Wood inserts are efficient and use a renewable fuel while having the beauty of a natural wood fire.
By adding a fireplace insert you will transform your home into a gorgeous space where you can relax, entertain or enjoy the family. Contact West Sport in Sudbury for more information on our sale on Peterson gas inserts and Hearthstone wood inserts. You can see both of these beautiful inserts, and many more, in our shop every day!
*Excerpts - thisoldhouse.com