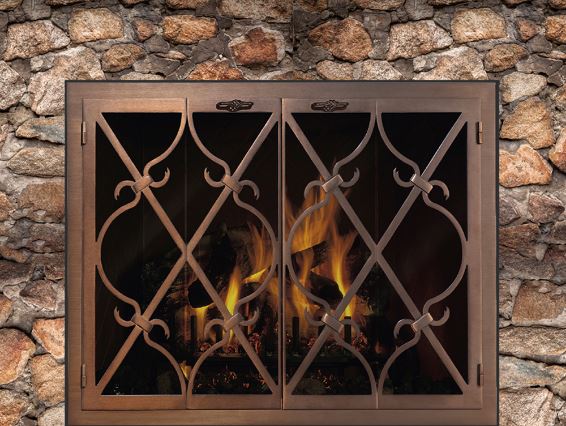 When it comes to glass fireplace doors there are hundreds of options available. You can choose stock or custom doors. It all depends on the size and style of your fireplace the type of fireplace doors. Here are some reasons you might choose a custom fireplace glass door rather than standard, stock sized door.
Typically the reason a homeowner chooses a custom fireplace door because of a unique size. Stock fireplace doors are generally made in just a few sizes so you may see something you like but it just won't fit your fireplace. In that case, you can get something made that is similar and that fits the opening. Many times fireplace openings will be much too large for a stock door or you may have a smaller opening that is not a common size.
Another reason you may choose a custom fireplace glass door is because you have a unique opening on your fireplace. Stock sized doors are generally not made to fit anything that is not perfectly square. For example, if you have a Rumford style fireplace (a fireplace opening that is taller than it is wide) or an arched opening you most likely will not find a stock size to fit. Many fireplaces even have unique openings, like a scrolling design at the top, for which fireplace doors are not traditionally made and would require custom design.
In some cases, a stock size may fit your opening but it wouldn't look like you had pictured. If you already have a door on your fireplace and are looking to replace it you may also require a precise fit. A stock sized door may be slightly larger and overlap more than your previous door and cover decorative tile or marble. Alternately, a stock size that will fit your opening may be smaller than your current door leaving exposed brick or tile that is now discolored or damaged from having a door attached to it. A custom door can easily solve both of these problems by providing a perfect fit.
But maybe you just have a specific design in mind. With so many doors on the market, you can get just about anything you can imagine. Fireplace glass doors come in endless styles to fit any décor. There are a variety of craftsman style doors with unique designs that are only made to order. Most steel doors are only custom made and have heavier hinges and feel and have smoother opening and closing doors. Many stock doors are only available in a few stock colors, but the same door may also be available in a custom color to coordinate with your decor.
Whatever your reason for choosing a custom door, there are hundreds of options so you can get exactly what you want. While this can be an overwhelming task, at West Sport in Sudbury we can help.
For more information contact us.
fireplacedoorsguide.com