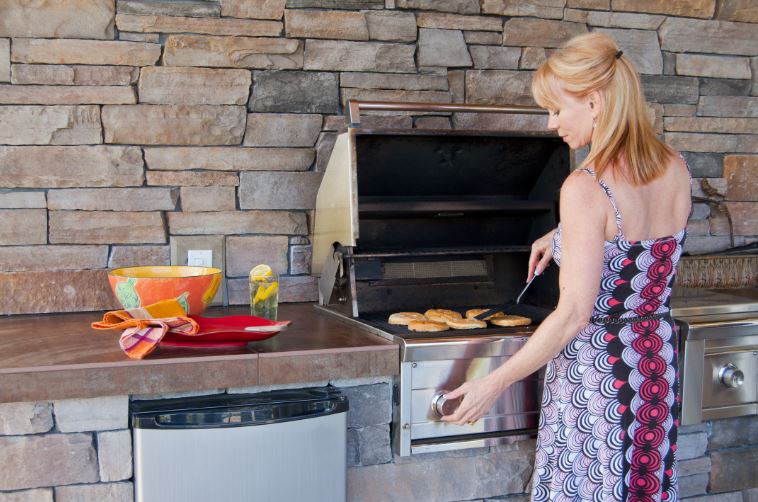 Over the years, outdoor landscaping has evolved from a plain concrete pad to more elaborate, multi-functional, multi-dimensional designs like outdoor kitchens and living rooms. These outdoor living spaces are accessible to people with a variety of budgets, and aren't just limited to high-end homes.
People are increasingly considering the outdoor area to be an extension of their home, using it as an outdoor kitchen as well as an outdoor living area.
What is your priority: do you want to cook, or do you want to entertain? How do you want to use the space?
While things like a built-in gas grills or a smoker used to be reserved for luxury homes, those features are now readily available at different price points.
It used to be only the elite could have these outdoor kitchens, and now they're accessible for everybody, and people really want to incorporate them into their design. People want to build outdoor spaces they can really use and savor during the months they can be outside.
Homeowners also want to incorporate items like outdoor TVs, seating spaces and a cast iron fire drum to host gatherings for friends.
Outdoor living spaces now have more of a flow, using different materials and creating distinct areas.
You might have an outdoor kitchen, an entertaining level, and then a separate area with a pergola and a swing. You can build in some functional furniture that doubles as benches and storage.
Even lighting for the outdoors has become more high-tech, as LED technology has introduced smaller lighting fixtures in a wide range of styles.
People are asking for maintenance-free lighting systems they can install and then forget about.
People are also making conscious choices about what plants they are incorporating into their landscaping. They are mixing herbs and vegetables into their overall plan and not having a designated vegetable garden. They are also choosing to incorporate plants that are friendly to butterflies and other wildlife.
There are really so many exciting things on the market now, and things that will be coming onto the market in the near future.
Homeowners also might create a large-scale plan for their outdoor space and then create it in phases. The key is for the designer and the homeowner to work on the project today.
If you build a house, you're involved with the home builder from the very first step. It should be the same when you create your outdoor space. You should be involved and empowered to make a space look beautiful, but it has to be functional for you and your family and how you want to use it.
For more information on designing outdoor kitchens, contact West Sport in Sudbury.
nwitimes.com